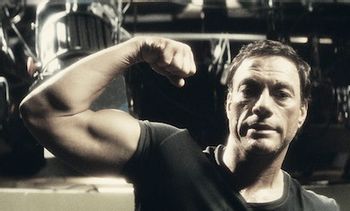 "When you're 13, you believe in your dream. Well it came true for me. But I still ask myself today what I've done on this Earth. Nothing! I've done nothing! And I might just die in this post office, hoping to start all over here in Belgium, in my country, where my roots are. Start all over with my parents and get my health back, pick up again. So I really hope... nobody's gonna pull a trigger in this post office... It's so stupid to kill people. They're so beautiful. So, today, I pray to God. I truly believe it's not a movie. It's real life. Real life."
JCVD is a Dramedy film directed by Mabrouk El Mechri and starring Jean-Claude Van Damme as Jean-Claude Van Damme.
A tired, washed-out failure, struggling for work and (subsequently) money, the film starts with JCVD returning to his hometown of Brussels, Belgium. When one day going to the local Post Office to arrange a wire transfer, he suddenly finds himself smack-bang in the middle of a robbery, held at gun point and marched into the back with the other customers and staff, where he's forced to juggle their expectations of "the Muscles from Brussels" with the fact he's a 48 year old man who really doesn't want to get shot.
His day does not improve from there.
Quite probably the finest film Jean Claude Van Damme has starred in for years (possibly ever), and immediately recognized as such when it was released. It gets a lot of mileage out of both the public's perception of him, and the current state of his career.
---
This movie provides examples of:
Actor/Role Confusion: The robbers see Jean-Claude as "The Muscles from Brussels", Jean-Claude sees Jean-Claude as a washed-up middle-aged B-movie star who is very passionate about not getting shot.
---