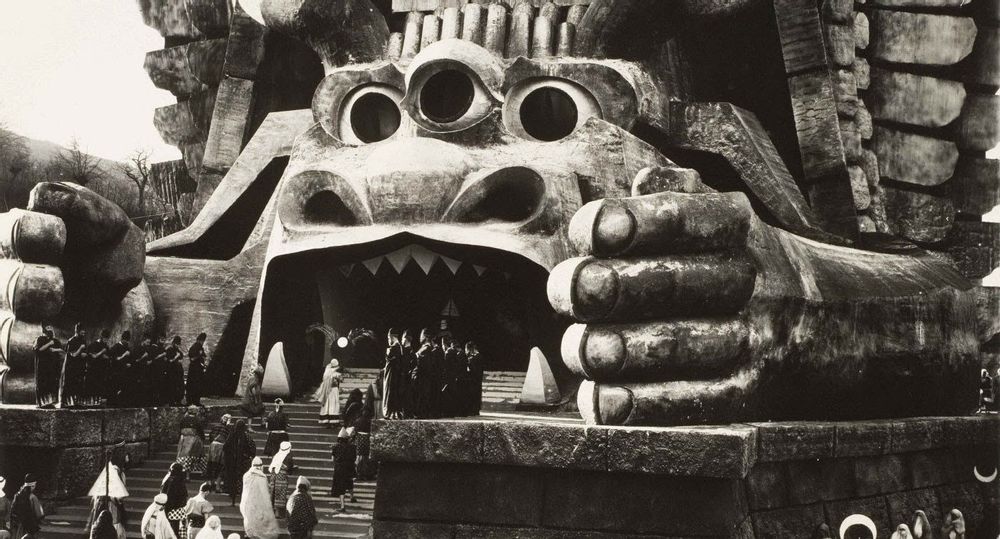 Cabiria is a 1914 Italian epic film directed by Giovanne Pastrone. It is set in Ancient Rome during the Punic Wars of the third century B.C.
At the beginning of the movie Cabiria is the 8-year-old daughter of Batto, a wealthy Italian patrician with an estate in Sicily. An eruption of Mt. Etna destroys Batto's mansion, and Cabiria is thought to have been killed in the fires. However, Cabiria is not dead; her nurse Croessa joined the other servants in looting their master's estate, and Croessa took Cabiria with her.
Unfortunately for Croessa and Cabiria they are soon captured by Phoenician pirates and sold into slavery in Carthage. Carthaginians are in the habit of sacrificing young children to the god Moloch, and little Cabiria is picked to be one of a hundred kids to be thrown into the fire. Croessa makes her way to Fulvius Axilla, a Roman businessman in Carthage who is actually a spy. Fulvius, and his hulking, enormously strong black slave Maciste (who would later go on to star in his own incredibly long-running film series, though only after turning white) arrive Just in Time to save Cabiria from being sacrificed. Eventually little Cabiria is hidden with Sophonisba, a Carthaginian princess promised in marriage to the Numidian king Massinissa.
And there are even more characters than that.
Cabiria originally ran a whopping 200 minutes. It survives today in cuts running anywhere from 126 minutes to 190 minutes in a 2006 restoration. It was not the first feature film, as several films in the 60-90 minute range had already been produced, but it was unprecedented in its length and scope, with enormous sets and the proverbial cast of thousands. It made an obvious impact on D. W. Griffith, who took a lot of inspiration from Cabiria when filming the "Fall of Babylon" portion of his 1916 epic Intolerance.
---
Tropes: