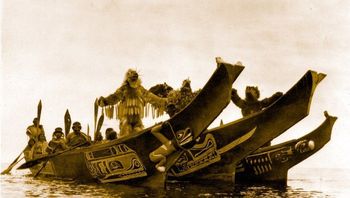 In the Land of the Head Hunters is a 1914 film directed by Edward S. Curtis, about the Kwakwaka'wakw indigenous people of coastal British Columbia and Vancouver Island, starring an all-native cast.
The setting is sometime in the 18th century before the natives have made contact with white men. The protagonist of the story is Motana, a young brave who goes off on a "vision-journey" as part of his coming into manhood. In the flames of his campfire he has a vision of a woman. Shortly thereafter he sees her in real life: Naida, a lovely maiden. Unfortunately Naida is promised in marriage to an evil sorcerer. Motana and his tribe attack the sorcerer's tribe, kill him, and take Naida away. Motana and Naida are married, but Yaklus, the evil sorcerer's even more evil brother, is out for revenge.
Curtis was a photographer and ethnographer who at the time of production was several years into an epic 23-year project to photograph and document the lives and histories of the native tribes of North America. Curtis hit on the idea to make a feature film in order to make some side money while continuing his research. That failed, as while the film received rave reviews, arguments over distribution rights meant that it was never given a general release. It remains an invaluable record of the dress and life of the Kwakwaka'wakw people. The ceremonies depicted in this film had been banned by the government of Canada in 1884 and would not be made legal again until 1951.
In the Land of the Head Hunters is the oldest surviving film made in Canada. It only survives in incomplete form, however, having been cobbled together from multiple damaged and fragmentary prints, with still frames used in several scenes to complete the story and fill out the 65-minute run time.
---
Tropes: