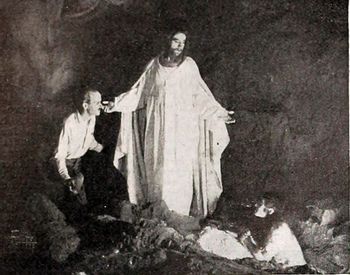 Civilization is a 1916 silent film produced and directed by Thomas Harper Ince. It is an anti-war film meant to discourage American involvement in World War I.
The imaginary nation of Wredpryd, which is obviously supposed to be Germany, goes to war. The common people of the pastoral village of Nurma can't believe it, but the king and his ministers are caught up in war fever. The voices for peace are hooted down—a lone protester in Parliament has garbage thrown at him, an anti-war cynic on the streets is attacked—and the nation goes off to war. The men of Nurma are dragged away from their homes and their jobs as the war drags on; fathers are taken away from their children, a son is taken away from his infirm mother, the blacksmith's forge goes quiet, and the sheep are left untended in the field.
Meanwhile, Count Ferdinand (Howard C. Hickman), an inventor, has devised a new type of submarine. With the king's approval, he is designated commander of the submarine when it goes off to war. However, Ferdinand's girlfriend Katheryn has joined a Christian anti-war secret society and pleads with him not to fight. At sea, Ferdinand gets to chance to sink an enemy passenger ship. He refuses, and holds off his own crew at gunpoint until he opens the sea valves, sinking his own submarine, which explodes.
Ferdinand is fished unconscious out of the water. Meanwhile, his soul goes to Hell, where Jesus finds him and tells Ferdinand that he, Jesus, will take earthly form again using Ferdinand's body. A revived Ferdinand, speaking as Jesus, speaks in the capital for peace. He is heckled and stoned by protesters, and then arrested, but Katheryn's Christian peace group, now numbering in the thousands, marches on the capital.
The king, rattled by the anti-war protests at his gates, goes to see Ferdinand. Jesus leaves the body of Ferdinand and takes the spirit of the king on a Christmas Carol-style tour of the carnage of the war. The king, repentant, makes peace. Ferdinand appears to be dead, but the men of Nurma come home to their wives and families.
A century later, Civilization presents a weird mish-mash of tones and style, whipsawing between thudding Anviliciousness, hokey literalism, chilling battle sequences, and moments of powerful emotion. It has a place on the National Film Registry.
Not to be confused with the video game.
---
Tropes: