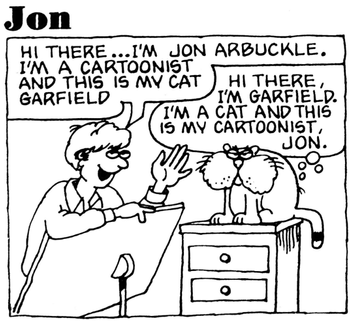 Jon
, later renamed
Garfield
, is an obscure comic strip by Jim Davis made for an local Indiana weekly newspaper named
Pendleton Times
from 1976 to 1978, between
Gnorm Gnat
and the identically-titled
Garfield
, being a prototypical version of the latter.
In a set-up that sounds very familiar in hindsight, the comic is about a cartoonist named Jon Arbuckle and his fat cat Garfield, who are occasionally joined by Jon's friend Lyman and his dog, Odi— sorry, "Spot". Its humor and jokes are near identical to Garfield's, down to the lasagna jokes, but the art-style is different. Many of the strips were even later redone in Garfield. Also notable for the comic, is that, due to the fact it was focused on Jon, there are several strips where the famous cat is entirely absent. However, the strip shifted focus from Jon to Garfield mostly due to pressure from comic syndicators to rework his cat as the star as they felt the cat had better lines than his human.
While it was published, Davis attempted to sell the strip to the syndicates, being eventually retooled into its current Garfield form and picked up nationally by United Feature Syndicate in January of 1978 (the national strip would begin being published that June).
Not to be confused with the Garfield fan-comic Jon by Gale Gilligan.
The entire series can be viewed in PDF format here.
---
Jon provides examples of:
---