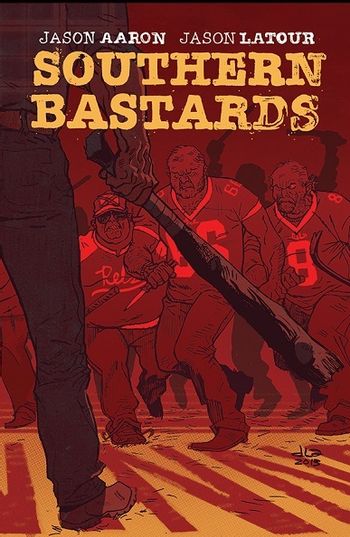 "It ain't worth the blood."
Southern Bastards is an ongoing Image Comics series by Jason Aaron and Jason Latour chronicling the exploits of Craw County, Alabama following the return of Earl Tubb, former High School Defensive End and son to legendary former Sheriff Bertrand "Big Bert" Tubb. Earl merely wants to pack up the belongings of a family member moving out of town for medical reasons, eat a rack of ribs, check out his former team the Runnin' Rebs play a game of ball, and get the hell out of town. However, he sees how much worse the town has become, a hotbed of drug dealing and violence headed by the Rebs' coach, Euless Boss. Against his better judgment, Earl decides to do something about it. However, things aren't exactly that cut and dried...
Writer Jason Aaron and artist Jason Latour created the series as a tribute to the best and worst things about the South, of which both come from. The series could be described as Scalped meets Walking Tall (1973). It topped many people's lists as one of the best comic series of 2015.
Southern Bastards contains examples of: