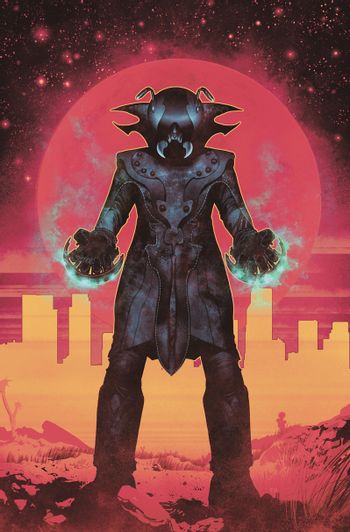 "You're a fallen specimen, Ray. Weak and Self-Indulgent. This so-called screenplay of yours is the work of a contemptuous, self-loathing creator. Your notes are illegible. There's no outline. What's the lead's motivation? And the tone! Is it science fiction or gothic space horror or some bizarre post-modern romance thing? Where are you going with this?"
— Max Nomax
Ray Spass (pronounced "Space") is a Hollywood screenwriter who hasn't produced a working script in two years. He's low on money, wired on illicit substances, and to top it all off, he's been diagnosed with an inoperable brain tumour. A pretty grim and melodramatic fellow, he decides to commit suicide in the (supposedly) haunted house he recently purchased, only to be stopped by the mysterious Max Nomax, who claims that there's a very different kind of bullet in his head all ready.
Max Nomax is the star of the story Ray is currently writing, an intergalactic fugitive who was imprisoned on a derelict space station for committing the ultimate crime. Now he is in Ray's living room, claiming that he is suffering from a light case of amnesia and the tumour in Ray's head is actually a humongous data packet containing his recent memories that Max shot into the dimension he was escaping to so he could recover them later. The only way to purge it is to put the whole sordid affair out there in a nice, readable bundle.
Ray only has seven days to do it though. Because Max Nomax is a very wanted man and the script for "Annihilator" might just be crucial in preventing his pursuers from destroying all of existence. Or it might not. Max is a bit of a deceitful prick.
Grant Morrison's double-edged love letter to Hollywood and the creative process with Frazer Irving providing his usual barrage of gorgeous and grotesque artwork, Annihilator is a tale of scoundrels and scribes that blends the mundane with the cosmic in a pensive, action-packed study on what makes a villain and what makes a protagonist.
---
Tropes:
---