---
Spoilers for Mythologies will be unmarked
---
Shinnok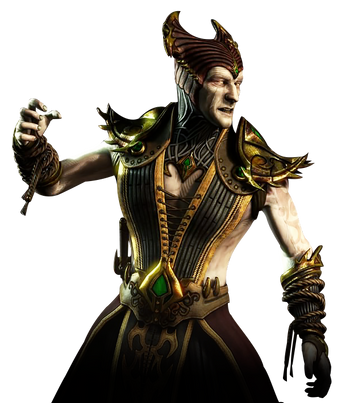 Other appearances: Mortal Kombat 4

(Steve Beran),

Mortal Kombat: Armageddon

(Knute Horwitz),

Mortal Kombat 9

(Ken Lally, non-playable),

Mortal Kombat X

(

Troy Baker

, English; Idzi Dutkiewicz, Latin American Spanish) and

Mortal Kombat 11

(

Troy Baker

, English; Idzi Dutkiewicz, Latin American Spanish; non-playable).

Non-video game appearances: Mortal Kombat: Annihilation

(Reiner Schöne),

Mortal Kombat Legends: Scorpion's Revenge

(

Robin Atkin Downes

)
Shinnok is a former elder god and current ruler of the Netherrealm. Originally, he wanted to take Earthrealm for himself to gain immense power. To make sure he could freely enter Earthrealm without being detected, he created a special amulet which discreetly weakened the dimensional barriers. However, with the help of the other Elder Gods, Raiden discovers his plot and defeats him in battle, banishing him to the Netherrealm for good. There, he suffered constant torture until he met the sorcerer Quan Chi. With his help, Lucifer was dethroned and Shinnok became the new ruler with Quan Chi as his arch-sorcerer and right-hand man.
During the events of both Mythologies: Sub-Zero and Mortal Kombat 4, Quan Chi was working to release his master, the banished Elder God Shinnok, from his imprisonment in the Netherrealm. With the assistance of the original Sub Zero, Quan Chi managed to get the amulet and initiate Shinnok's invasion of the realms after Shao Kahn's failed attempt to conquer Earthrealm. He managed to invade Edenia and attack the heavens before Earthrealm's warriors managed to have him banished back to the Netherrealm once more by Raiden.
In Armageddon, Shinnok tricked Taven into helping him, claiming that he was no longer an Elder God for getting involved with the affairs of mortals. He wished for him to defeat the demons that inhabit his throne and he would try to locate Daegon as a reward. He successfully does the task and Shinnok tells Taven that he is most likely in Earthrealm. As he leaves, it is revealed that Shinnok was helping Daegon who was hiding in Netherrealm. In addition, it was Shinnok who alerted the many combatants to the prize at the top of the Pyramid of Argus, telling them that whomever obtained this power would be granted godlike power. His ending reveals that Shinnok created a clone of his own self to assist Daegon in Armageddon. His clone was killed off shortly after defeating Kung Lao, unable to complete his objective.
He makes a brief cameo in Mortal Kombat 9. In Mortal Kombat X, he's launched an all-out invasion of Earthrealm following the events of Mortal Kombat 9 only to be defeated by Johnny Cage. The rest of the game's story revolves around a plot by Quan Chi and D'Vorah to bring him back after 20 years. They succeed (at the cost of Chi's life) and he ends up almost winning, absorbing Earthrealm's Jin Sei and becoming a corrupted version of himself before being stopped by Cassie Cage. His severed immortal head is then used by Dark Raiden as a warning to the new rulers of the Netherrealm, Liu Kang and Kitana.
---
open/close all folders
A-G
H-W
---