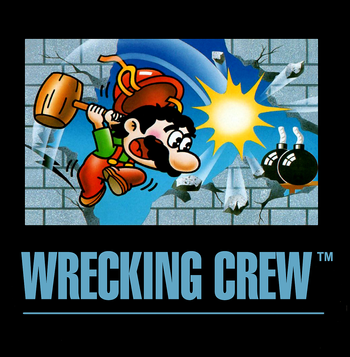 Nintendo
, before making the
Mario Bros.
"Super"
but after having the elder brother square off against
Donkey Kong
, employed Mario and Luigi in
Wrecking Crew
, a platform-based
Maze Game
released for the
Nintendo Entertainment System
in 1985. It was the first game design job for one
Yoshio Sakamoto
, kickstarting a prolific career.
In this game, the brothers wield hammers (both the regular kind and the more powerful Golden Hammer), bombs, and falling oil drums as tools for demolishing various buildings. Posed against them is Foreman Spike, who sics Eggplant Men and Gotchawrenches on the Bros. while chasing after them himself. Mario and Luigi must dodge these enemies as they smash apart the demolition sites one wall, pillar, and ladder at a time. Every fourth level, they must race against Spike in a search for a hidden coin for extra points.
Like several other NES games, it was adapted into an arcade game running on the VS. System. However, it was one of the few VS. System games to actually predate the home release, as it contains a 1984 copyright. VS. Wrecking Crew is also quite unlike the NES game, and allows simultaneous multiplayer.
Nintendo released Wrecking Crew '98 in Japan only as one of the last games for the Super Famicom. This was a compilation of the original Wrecking Crew with an all-new competitive Match-Three Game. The story once again sees Spike, this time working for three-month younger Bowser, impeding Mario's demolition job. Foreman Spike himself would also reappear as an unlockable character in Mobile Golf, a Japan-only Game Boy Color entry in the Mario Golf series, and also appears as the Bros.' former boss in Illumination Entertainment's The Super Mario Bros. Movie, where he's voiced by Sebastian Maniscalco.
Along with many others, this game would also appear in NES Remix.
---
Tropes:
---