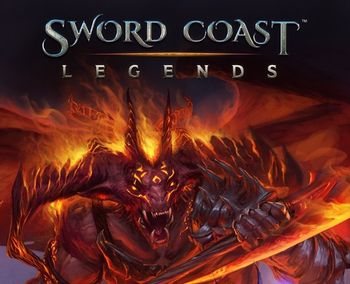 Sword Coast Legends is a fantasy Role-Playing Game which takes place in the Dungeons & Dragons Forgotten Realms universe, the first full single player campaign in that universe since 2006's Neverwinter Nights 2. The game features 5 playable races and 6 playable classes.
Like the Neverwinter Nights games, it also allows you to create your own adventures through a "Dungeon Master Mode", albeit with a more limited editor. This allows for creation of either single player or online-multiplayer adventures, and one person can play as the dungeon master, which allows them to control NPCs, encounters, traps, etc. in real time.
It was officially released on 20 October 2015. Two years later, it was announced that, due to the license expiring, it would be removed from sale on all platforms at the end of 2017, although existing owners could continue to play and the multiplayer servers would be maintained indefinitely.
---
This game contains examples of:
---