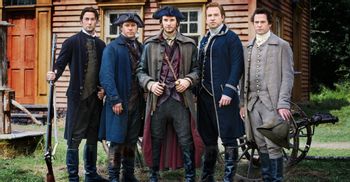 "If you make martyrs of these men, the people of Boston won't see these men as sons of tyranny. They'll be seen as sons of liberty."
— Benjamin Franklin
Sons of Liberty is a 2015 American miniseries, part of The History Channel's foray into scripted programming. It is a three-part, six-hour miniseries depicting the events that led up to The American Revolution. The show's protagonist is Sam Adams (Ben Barnes), second cousin to John Adams (Henry Thomas), and focuses on the growing unrest among the colonists and backlash against their treatment as second-class citizens by the "real" British.
Like many series based on historical events, the miniseries does take some liberties with actual events, compressing historical events, ramping up conflict, and emphasizing personal relationships alongside the prelude to war. Reviews also criticized the Historical Beauty Update given to many of the Founding Fathers, who, contrary to what the show portrays, were mostly married, philosophical fathers in their forties and fifties, not dashing young bachelors with serious fighting skills.
The series also stars Marton Csokas as Thomas Gage, Ryan Eggold as Joseph Warren, Rafe Spall as John Hancock, Michael Raymond-James as Paul Revere, Jason O'Mara as George Washington and Dean Norris as Benjamin Franklin.
A Spiritual Successor to Vikings, with its entertaining-but-not-always-accurate take on history and its slightly gritty visual style. Not to be confused with Sons of Liberty, a 1939 film about Patriot financier Haym Salomon—or to the 2nd installation of the Metal Gear Solid series.
---
This show provides examples of:
---