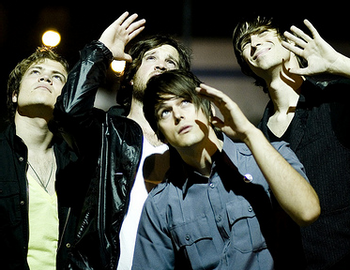 The Brobecks is an indie band created by Dallon Weekes (who now is the bassist of
Panic! at the Disco
and
I Don't Know How But They Found Me
) and photographer/producer Matt Glass. They have released several albums and other music (which is available on their bandcamp
http://thebrobecks.bandcamp.com)
and one of their albums, 'Violent Things' is available on iTunes. Dallon is the front man of the band and the only member who has be involved with all of the band's releases.
They've been on hiatus for a while, due to Dallon's commitment to Panic! but the band releases songs sporadically.
Dallon's DeviantArt can be found here
and his Vine account can be found here
.
Discography:
Understanding The Brobecks (2004)
Happiest Nuclear Winter (2005)
Goodnight, and Have a Pleasant Tomorrow (2006)
I Will, Tonight EP
Violent Things (2009)
Quiet Title EP (2012)
---
Tropes in the band members:
---
Tropes in the band's music:
---