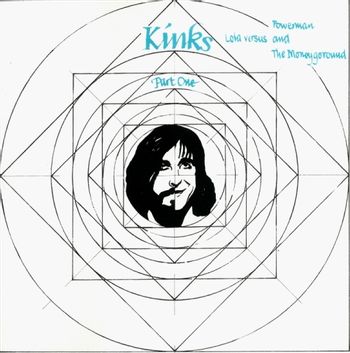 Lola Versus Powerman and the Moneygoround, Part One is the eighth studio album by The Kinks, released in 1970. It proved to be a critical and commercial success featuring the Breakaway Pop Hit "Lola". It is generally considered by most aficionados to be one of their greatest albums and a classic of that era. The album was initially floated as a two-part album, hence the otherwise confusing "Part One" at the end of the title. There were plans for a "Part Two" but the band went in a different direction with Percy and Muswell Hillbillies. It is also their first album to officially feature keyboardist John Gosling, who joined the band the previous year.
Lola is a Concept Album in that it deals with the Music Industry and the consequences of a career in the business — the agents, the hangers on, the publishers, the soul-crushing capitalism, the constant touring and loneliness. Of course given the nature of Ray Davies style, there's a lot of Applicability in terms of lyrics and the general theme is how life is full of compromises, melancholy and regret but friends and relationships make it worthwhile. Two of the songs, "Lola" and "Apeman" were released as singles, and stand out for its more general themes — romantic confusion and modern-life lacking fulfilment.
The album has become more prominent in the millennial decade thanks to its use as soundtrack in several recent films. Wes Anderson's The Darjeeling Limited (which uses three songs from the album) and the French film, "Les Amants reguliers" (also featuring "This Time Tomorrow"). The 2012 indie film, Lola Versus also gives a Shout-Out to the title of this album. "Weird Al" Yankovic also memorably parodied "Lola" as "Yoda" in 1985.
---
Tracklist:
Side One
"The Contenders" (2:42)
"Strangers" (3:20)
"Denmark Street" (2:02)
"Get Back in Line" (3:04)
"Lola" (4:01)
"Top of the Pops" (3:40)
"The Moneygoround" (1:47)
Side Two
"This Time Tomorrow" (3:22)
"A Long Way from Home" (2:27)
"Rats" (2:40)
"Apeman" (3:52)
"Powerman" (4:18)
"Got to be Free" (3:01)
---
Principal Members:
Mick Avory - drums, percussion
John Dalton - bass, vocals
Dave Davies - guitar, backing and lead vocals, banjo
Ray Davies - lead vocals, guitar, harmonica, keyboard
John Gosling - keyboard, piano, organ
---
Top Of The Tropes:
---