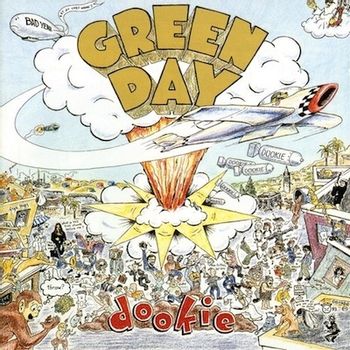 "Punk turns into pop in fast, funny, catchy, high-powered songs about whining and channel-surfing; apathy has rarely sounded so passionate."
— The New York Times
Dookie is the third studio album by Green Day, released in 1994.
Prior to this album, the band was floating under the radar, with their first two efforts (39/Smooth and Kerplunk) receiving shrugs or light positive reviews from the media. Their first album on a major label (Reprise Records), Dookie not only propelled them to stardom, but also allowed similar punk rock bands like them to finally make the big transition to the mainstream.
While various music executives approached the band to make their sound more palatable, Green Day instead sought a more "dry" sound similar to the Sex Pistols and Black Sabbath. Touching on controversial themes such as lust, mass murder and boredom, the record faced numerous attempts in production to bowdlerize its content. Nevertheless, the lyrics and Punk Rock influences spoke to a population of youth similar to the manner in which grunge and Alternative Rock conveyed a sense of dissatisfaction with the world.
The album won the Grammy Award for Best Alternative Music Album. It was certified Diamond by the RIAA for selling over 10 million copies, and went on to sell double that, making Dookie the band's highest-selling album. The album also spawned hits including "Longview", "When I Come Around", and "Basket Case", all seen as some of their Signature Songs.
Despite this, the album unfortunately became a Tough Act to Follow for the band, with their future albums failing to get the gargantuan success that Dookie did, although American Idiot got pretty damn close.
---
Tracklist:
"Burnout" (2:07)
"Having a Blast" (2:44)
"Chump" (2:54)
"Longview" (3:59)
"Welcome to Paradise"note (3:44)
"Pulling Teeth" (2:31)
"Basket Case" (3:01)
"She" (2:14)
"Sassafras Roots" (2:37)
"When I Come Around" (2:58)
"Coming Clean" (1:34)
"Emenius Sleepus" (1:43)
"In the End" (1:46)
"F.O.D."note (2:50)
"All by Myself"note (1:40)
---
Principal Members:
Billie Joe Armstrong - lead vocals, guitar
Tré Cool - drums, percussion, backing and lead vocals, guitar
Mike Dirnt - bass, vocals
---
I sit around and watch the tropes, but nothing's on...
---