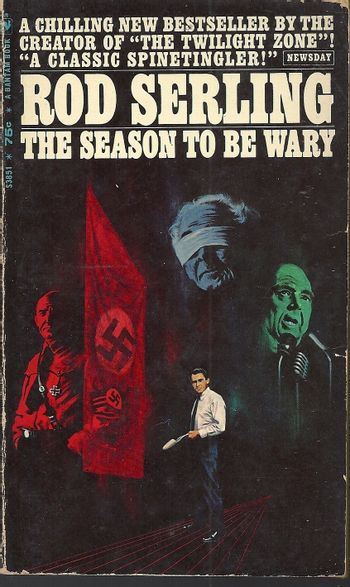 The Season to Be Wary is a 1967 collection by Rod Serling comprising three short stories:
"The Escape Route": Joseph Strobe, once a Gruppenfuehrer in Nazi Germany and now a fugitive in Buenos Aires, is scared. Adolf Eichmann has just been captured and is en route to Israel to stand trial. Who's next? Him? His colleagues, Lanser and Gruber? Finding no help from either man, Strobe looks for an escape route of his own— and thinks he found it...
"Color Scheme": The civil rights movement comes to the backwater town of Chaseville, Mississippi, when the local blacks march in a peaceful protest. The offended white citizens of the town look to a man to reassure them: King Connacher, a populist racist speaker with a taste for inciting riots. But he's called up one riot too many.
"Eyes": Miss Claudia Menlo has never wanted for anything— except the eyesight she's been deprived of since birth. But she's certain everything— and everyone— has their price, and she's willing to pay whatever it takes to be able to see. Even for just a few hours.
"The Escape Route" and "Eyes" were eventually adapted into two segments of the Pilot Movie for Night Gallery.note Serling rightly noted that TV execs wouldn't dare do "Color Scheme".
WARNING: Since the stories rely heavily on twists and reveals, this page is a veritable minefield of spoilers. Be cautious.
---
All the stories provide examples of:
"The Escape Route" provides examples of:
"Color Scheme" provides examples of:
"Eyes" provides examples of:
---