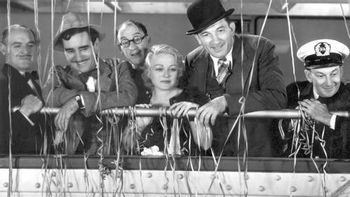 The Captain Hates the Sea is a 1934 comedy film directed by Lewis Milestone, set aboard a cruise ship (reminiscent of The Love Boat 40 years later) on a voyage to South America. Characters aboard the cruise include:
The titular Captain Helquist (Walter Connolly), who does indeed hate the sea, and only became a sailor after his father chucked him out of the house for playing a prank.
Steve Bramley (John Gilbert), an alcoholic newspaperman and failed screenwriter who is taking the cruise in an effort to dry out and get started on a novel.
Schulte (Victor McLaglen), a former policeman turned private eye, who is pursuing Danny Checkett, a crook whom Schulte thinks is carrying $250,000 in stolen bonds.
Janet Grayson (Helen Vinson), an innocent librarian who turns out to be more than she seems.
Mrs. Yolanda Magruder (Alison Skipworth), a wealthy, late-middle-aged widow looking for a good time.
Mr. and Mrs. Jeddock (John Wray and Wynne Gibson). Mrs. Jeddock is an ex-prostitute who left the life to get married, while Mr. Jeddock is a businessman who seems to regret the idea and is constantly screaming at and verbally abusing his wife, for fear of her embarrassing past.
General Salazaro (Akim Tamiroff), a South American general sailing back to his country in order to foment revolution.
The Three Stooges, who appear as the ship's orchestra.
The Captain Hates the Sea was a flop for Columbia. It didn't do well at the box office, and the decision to film on an actual cruise ship instead of on sound stages meant the studio took a bath financially. It is best remembered today for being the last film of John Gilbert, a huge star in the silent era who saw his career swiftly collapse with the coming of talking films. Gilbert drank himself to death, dying a little over a year after the release of this film at the age of 36 from a heart attack brought on by severe alcohol abuse.
---
Tropes:
---