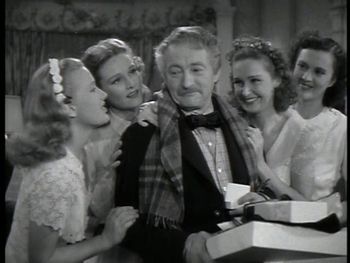 Four Daughters is a 1938 film directed by Michael Curtiz, starring Claude Rains and John Garfield.
Adam Lemp (Rains) is a flutist and music professor with the titular four daughters, Ann, Kay, Thea, and Emma. Kay is a singer while the other daughters play musical instruments, and the family entertains themselves by playing songs together at home. Their placid existence is disturbed by rakish, charming composer Felix Dietz, and Felix's buddy, the even more rakish and more charming pianist Mickey Borden (Garfield). Many romatic comlications ensue.
Four Daughters was the film debut of Garfield, who went on to a very successful career as a leading man. Three of the sisters were played by Real Life sisters: Priscilla Lane (the big star, as Ann), Lola Lane (Thea), and Rosemary Lane (Kay). The fourth sister, Emma, was played by Gale Page.
The movie was a big hit, and spawned two sequels, Four Wives (1940) and Four Mothers (1941). It was remade in 1955 as Young at Heart.
---
Tropes:
---