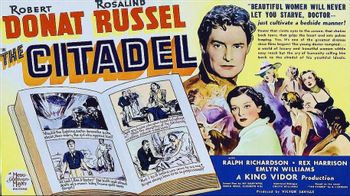 The Citadel is a 1938 film directed by King Vidor, starring Robert Donat and Rosalind Russell.
Dr. Andrew Mason (Donat) starts off his career as an idealistic doctor sent to the desperately poor coal mining towns of Wales to minister to the local miners. He does good work—reviving a child that seemed to have been born dead, saving a miner trapped under falled coal—but he refuses to issue work disability scrips for people who aren't really sick, thus alienating the locals. He also won't issue the placebo that less conscientious doctors were giving for tuberculosis, which frightens the ignorant miners, instead finding a link between coal dust and the onset of TB.
The miners repay his industriousness by throwing him out of town. Mason goes to London, but research into lung diseases doesn't pay the bills and he is reduced to poverty and doing ear piercings when he bumps into an old friend, Dr. Frederick Lawford. Lawford introduces him into the world of medicine for rich people, which in this case consists of bilking wealthy hypochondriac ladies with medical treatments they don't need for illnesses they don't have. Manson chucks his idealism and sells out, becoming wealthy, until the arrival of Phillip Denny, an old comrade from his days in Wales, reawakens a dormant idealism.
A young Rex Harrison has a supporting part as Dr. Lawford. Another future star of British screen and stage, Ralph Richardson (eventually Sir Ralph Richardson) plays Dr. Denny. Rosalind Russell pretends to be British as Dr. Mason's wife Christine; she has little to do besides look pretty and be his conscience in a couple of scenes.
---
Tropes: