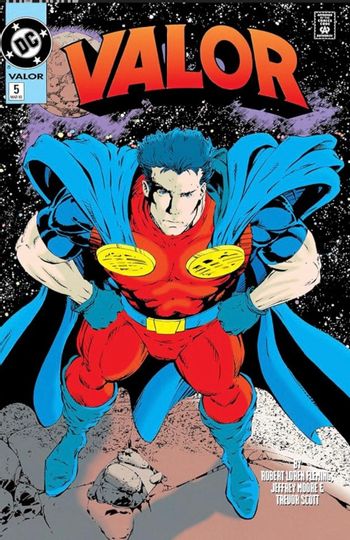 I'm a living time paradox, you see. History—not to mention my own memory—says I'm a crucial player in the development of humanity. I freed the enslaved humanoids that colonized the inhabitable worlds of the galaxy. Without me, the united planets—and the Legion of Super-Heroes—wouldn't exist. But that's thirtieth century history. In the past—now—the twentieth century—I died. Before I did any of that stuff. And history started unravelling. So my future self—me, that is—has been patched into the timestream by the linear men to make sure everything happens the way it should. Don't ask me how—it makes my head hurt just to think about it.
—Lar Gand, Valor 20
Valor is a 1992 comic book series published by DC Comics. It's a Spin-Off of L.E.G.I.O.N. and the Eclipso: The Darkness Within crossover. It stars the titular superhero Lar Gand AKA Valor.
Valor starts on the heels of The Darkness Within, which featured Lar prominently. The book ended during the Zero Hour tie-in crossover End of an Era, crossing over with the other Legion of Super-Heroes books at the time.
For tropes relating to the character in general, see Legion of Super-Heroes: Silver Age.
Valor provides examples of: