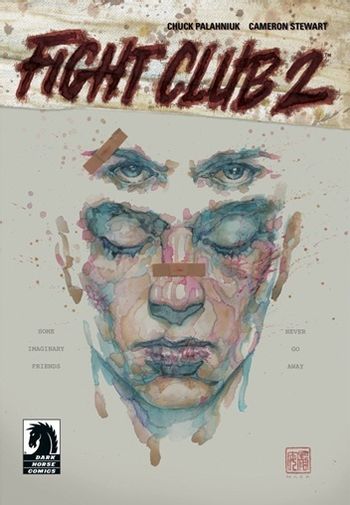 Fight Club 2 is a graphic novel sequel to the novel Fight Club. The comic is being written by original author Chuck Palahniuk and illustrated by Cameron Stewart (Batman and Robin, Seaguy). The book was published by Darkhorse Comics as as a 10 issue maxiseries, with the first issue debuting on April 8, 2015.
The story takes place ten years after the events of the novel and starts off from the submerged perspective of Tyler Durden as he observes the day-to-day tedium of life of the previously unnamed narrator (here called Sebastian). Oblivious, and now in a run-aground marriage with a bored Marla Singer (with whom he has a young son); Tyler manages to stage a comeback and kidnaps Sebastian's son, dragging him back into the world of Mayhem.
A third comic book, Fight Club 3, was released in 2019.
---
Tropes:
---