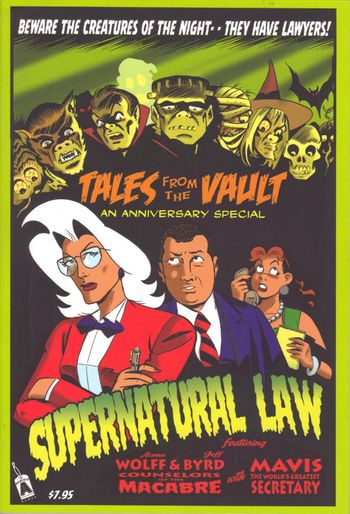 Supernatural Law, formerly known as Wolff and Byrd, Counselors of the Macabre, is a Comic Strip, Comic Book and Webcomic created by the late Batton Lash that has been in publication since 1979.
Jeff Byrd and Alanna Wolff are "monster lawyers"; that is, they are human lawyers representing The Undead, monsters, spirits, and other Things That Go "Bump" in the Night. The webcomic can be read here
and the books are available here
.
---
Tropes:
Alliterative Name: Mavis Munro.
Courtroom Episode: Most story arcs contain a courtroom scene, or are mostly set in one.
Fetus Terrible: In the storyline aptly entitled "I'm Carrying Satan's Baby!", an unlucky woman attempts to get an abortion without the consent of her husband, who sold his soul to the devil and is now under his control.
Good Lawyers, Good Clients: Quite a bit of the time, as a subversion of various monster tropes. Most of the clients just want to get on with their lives, or un-lives, as the case may be.
Last-Name Basis: Alanna Wolff and Jeff Byrd refer to each other by their surnames, though they are clearly both friends and business partners, if not each others' Love Interest.
Muck Monster/Plant Person: Sodd, the Thing That was It!, an Affectionate Parody of Swamp Thing.
Occult Law Firm: Inverted Trope. Wolff & Byrd is an ordinary small law firm, staffed by humans with no supernatural powers. Their clients, on the other hand…
Omnidisciplinary Lawyer: Wolff & Byrd provide a full range of legal services, from criminal, civil, contract and more.
Our Gods Are Different: The Greek gods show up in "The Gods Must Be Litigious".
Our Werewolves Are Different: The werewolves are patterned mostly after the Universal Horror classic The Wolf Man (1941).
Our Zombies Are Different: In "Zombie Wife" a woman returns from the dead and sues her husband for damages—for her murder (he was awarded a not guilty verdict in the criminal trial).
Sassy Secretary: Mavis Munro, the firm's secretary, is just as unflappable as her employers.
Shout-Out: To many classic horror films, books, etc.
Shown Their Work: The comic is highly accurate when it comes to how law works. It doesn't hurt that Lash uses a legal consultant.
Zombie Advocate: For our heroes, it's part of their job.
---