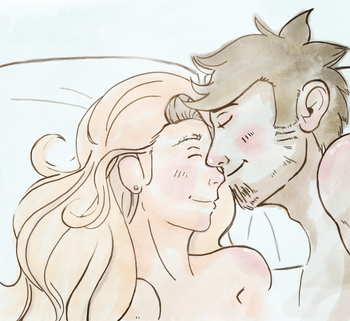 Our Personal Space
is a critically acclaimed
Visual Novel
by Metasepia Games, featuring a
Sci-Fi
setting and a plot with heavy
Romance Game
elements.
The story revolves around a young woman who is whisked away to a newly founded colony on a recently discovered Earth-like planet called Talaam by her new husband (their default names are Kelly and Jack respectively, but they can be renamed by the player), enticed by promises of excitement and adventure. He is eager to play an important role in this new community as a farmer, while the protagonist is signed on to work as either the colony's mechanic, carpenter, teacher, or doctor (as decided by the player during the prologue).
However, as it turns out, life on a strange, unknown world isn't quite so peachy. In a brand new colony with a small population, few modern amenities, and very limited resources, life is difficult and everyone must work very hard in order to survive. The protagonists thought their love would be strong enough to hold them together no matter how difficult the circumstances, but they quickly learn that they will need more than love alone to face life's challenges.
The game is free, and can be downloaded here
.
---
This visual novel provides examples of: