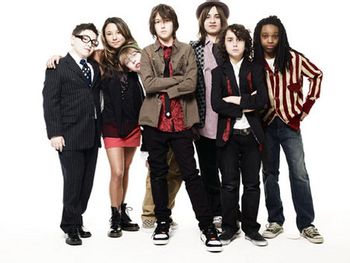 "If that's not love, then what is?
If that's not friendship, then what is?
If that's not music, then what is?"
— "If That's Not Love", the show's theme song
The Naked Brothers Band (2007-2009) is a Mockumentary Nickelodeon show about two boys, Nat and Alex Wolff, who have a successful band. Most of the episodes feature the boys' music. It started out as a 2005 independent film which became highly successful at film festivals, leading to Nick approaching the boys' mom, Polly Draper, to commission a TV series out of it with her as its producer and head writer.
As a side note, Draper wrote herself out of an on-camera role by making the boys' "mother" "dead", despite her husband and sons using their real names. Thus, she is possibly the first person in the history of the entertainment industry to literally commit career suicide.
And no, none of the characters are naked. The band name was made up on the fly when Nat and Alex were singing in the bathtub.
Can be argued to be part of the Nick Verse due to Miranda Cosgrove showing up As Herself. That would mean Polly Draper has written her death into over half a dozen other series.
---
This series provides examples of:
---