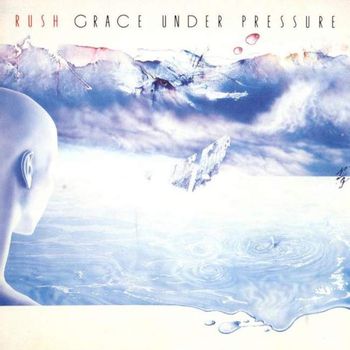 Grace Under Pressure is the 1984 album by Rush. A very dark concept album, discussing the Cold War, The Holocaust, and death. It continues the more new wave sound Signals introduced while adding more funk and ska elements into the band's sound. While Signals was more keyboard driven with the guitar in the background, it is the other way around on this album, with the guitar in the foreground while the keyboards are more in the background.
The first album since their debut not to be produced by their longtime producer Terry Brown, the album's production was extremely stressful, leading the band to almost break up at one point. Originally, U2 producer Steve Lillywhite was supposed to produce the album, but he bailed at the last second. Effectively, the album was produced by the band themselves, with help from Supertramp producer Peter Henderson.
This installment in the discography is regarded by many fans to be the most underrated album the band has done. Also, until Moving Pictures was performed in its entirety on the 2010 Time Machine tour, this was the only Rush album to be played in its entirety live on a tour (albeit out of order and not every song was played on every night), being played on the album's 1984 tour. Said tour was documented on their 1985 concert film titled Grace Under Pressure Tour.
---
Tracklist:
Side One
"Distant Early Warning"
"Afterimage"
"Red Sector A"
"The Enemy Within (Part I of Fear)"
Side Two
"The Body Electric"
"Kid Gloves"
"Red Lenses"
"Between the Wheels"
---
Principal Members:
Geddy Lee - lead vocals, bass, synthesizer
Alex Lifeson – guitar, synthesizer
Neil Peart - drums, percussion
---
Between The Tropes
---