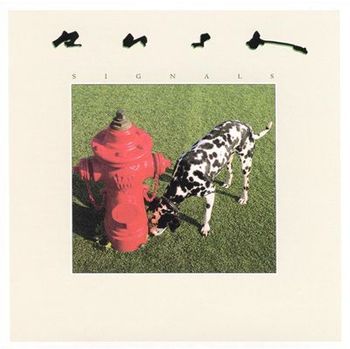 So, you are a band and you have just released your most successful studio album yet. So what do you do for the follow up album? Release one with a completely different sound!
Signals is the 1982 followup album to Moving Pictures by the Canadian rock band Rush. Being the follow up to their best selling album Moving Pictures, Signals was highly anticipated upon release and many fans felt to it was going to be Moving Pictures: Part 2.
But they were wrong. From the opening song "Subdivisions", the band had a new sound. It was more keyboard driven and included more new wave and reggae influences, with the band being influenced by artists like the The Police. The album contained their only Top 40 hit, "New World Man", hitting #21 on the Billboard Hot 100 pop charts. It was also their only #1 pop hit in their home country of Canada. Other memorable songs of the album was "The Analog Kid", "Digital Man", and "Countdown". This was also their last album to be produced by long-time producer, Terry Brown.
While now regarded as one their best albums, at the time this was easily the most controversial album the band released in their career. Fans wanting more of their Permanent Waves and Moving Pictures sound felt betrayed by the shorter songs, topical lyrics, and the focus on the keyboards. Rush would continue with this approach for the rest of the 80's. Rush's "synth era" was born.
---
Tracklist:
Side One
"Subdivisions"
"The Analog Kid"
"Chemistry"
"Digital Man"
Side Two
"The Weapon (Part II of Fear)"
"New World Man"
"Losing It"
"Countdown"
---
Principal Members:
Geddy Lee - lead vocals, bass, synthesizer
Alex Lifeson – guitar, synthesizer
Neil Peart - drums, percussion
---
New World Tropes
Album Title Drop: The word "Signal" is mentioned in "Chemistry".
Bookends: "Countdown" ends with a reprise of the instrumental backing of the "Subdivisions" chorus, though it feels a lot less desperate, to the point of qualifying as a Triumphant Reprise.
Cut-and-Paste Suburb: Discussed in "Subdivisions", how everything is pre-fabricated and pre-decided.
Epic Rocking: "Digital Man" and "The Weapon" are both over 6 minutes.
---