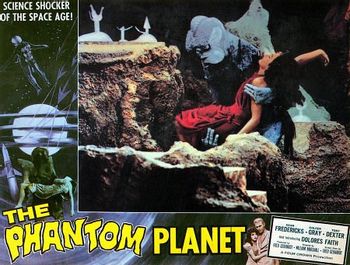 "Captives of a power far, far out!"
"Science Shocker of the Space Age"
"See!! A 6 ft. astronaut shrink to 6 inches before your very eyes! See!! The Moon Maidens! See!! The attack of the Fire People! Staring DOLORES FAITH the Girl from Outer Space!"
—Taglines from the film's poster
Astronaut Frank Chapman has been sent out into space with Navigator Ray Makonnen on a search for another pair of astronauts who died. After some odd philosophy from Makonnen, the two are separated when a meteor storm hits the ship and Makonnen is propelled into space while Frank is left barely conscious.
Luckily, Frank's rocketship lands on what he claims to be a wandering planet, the "Phantom Planet" of the title, where Frank encounters a race of tiny people who are six inches tall. After the planet's atmosphere causes him to shrink to their size, Frank is forcibly integrated into the society of the planet Rheton. Over the course of the film, he deals with a love triangle between an aggressive woman named named Liara (not that one), her own suitor Herron, and Cute Mute Zetha, whom Frank really falls for. Over the course of the rest of the film, Frank learns the history of the strange world, duels with Herron, and helps fight off an invasion of the Solarites. Though the invasion leads to Zetha finally gaining the ability to speak, Frank learns of a way to leave Rheton and return to his original size. Zetha gives him a rock to remember her by and the film ends with Frank being rescued by astronauts from earth while contemplating the rock and trying to figure out if the whole film was a dream.
The movie was later featured in an episode of Mystery Science Theater 3000 (episode 902).
---
Tropes:
---