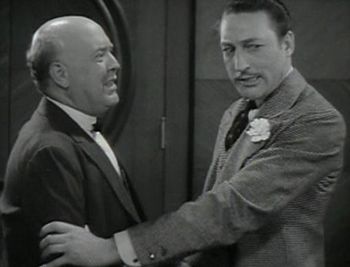 The Dark Horse is a 1932 film directed by Alfred E. Green, starring Warren William, Guy Kibbee, and Bette Davis.
Zachary Hicks (Kibbee) is an amiable but very, very dumb minor political functionary. At the Progressive Party's convention, the candidates for governor are deadlocked through ballot after ballot. Eventually they wind up nominating Hicks more or less randomly because they can't agree on anyone else.
Enter Kay Russell (Davis), the party's smart, sassy secretary, who offers up her boyfriend Hal Blake (William) as a campaign manager who can get dimwitted Hicks elected. Unfortunately Blake is in jail for failure to pay alimony to his vengeful ex-wife Maybelle. After Blake is sprung from prison he embarks on a deeply cynical campaign to get Hicks elected, while fending off a grasping Maybelle.
This was one of the first starring roles for 24-year-old Bette Davis, who would soon become the biggest star at Warner Brothers. It was also one of the very few comedies featuring Davis, who became a more-or-less literal drama queen; The Man Who Came to Dinner (1942) is another one.
---
Tropes: