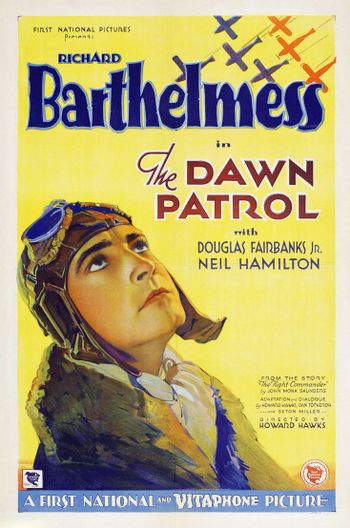 The Dawn Patrol, sometimes known as Flight Commander, is a 1930 film directed by Howard Hawks, starring Richard Barthelmess and Douglas Fairbanks Jr..
Courtney and Scott (Barthelmess and Fairbanks) are two hotshot pilots belonging to "A" Flight of a squadron of the Royal Flying Corps during World War I. The squad takes terrible casualties due to being sent into combat every single day, and the men relieve the stress by drinking. Courtney and Scott think that their CO, Major Brand, is too cautious, but Brand for his part is near breakdown from the stress of having to send men to their deaths on a daily basis.
Brand is relieved of this stress when he is promoted to a staff position, leaving Courtney in charge of the squadron. Courtney, now grounded, winds up in Brand's position, suffering the pressures of having to watch his men die every day. Courtney's friendship with Scott is ruptured when Scott's little brother Donny joins the squadron, driving a wedge between the two. The pressure on the squadron is further increased by the arrival in their sector of famous German ace von Richter and his elite flight wing.
The Dawn Patrol was remade in 1938, in a near-identical version. The remake was directed by Edmund Goulding and starred Errol Flynn as Courtney, David Niven as Scott, and Basil Rathbone as Brand. Max Steiner composed the score. The 1930 film was subsequently retitled Flight Commander on re-release in order to distinguish it from the Flynn film.
Compare Hell's Angels, another 1930 film about RFC pilots fighting the Germans.
No relation to the 2015 film Dawn Patrol.
---
Tropes:
---
Tropes specific to the 1938 film:
Comforting Comforter: As Scott goes to sleep on the cot, Courtney having deliberately gotten him drunk so he'll miss the suicide mission, Courtney puts a blanket over him.
Hangover Sensitivity: Scott wakes up wincing on a morning they have to go out on patrol, after drinking a lot the night before.
Leaning on the Fourth Wall: While both films end with Scott giving a briefing to the pilots, the 1930 film has a fadeout. The 1938 film by contrast has Scott actually finish his briefing and say "That's all", right before The End pops up onscreen.
---