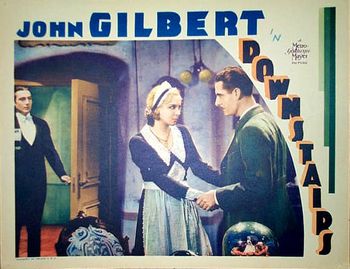 Downstairs is a 1932 Pre-Code film directed by Monta Bell, starring John Gilbert (The Big Parade) and Paul Lukas (Watch on the Rhine).
Lukas is Albert, the head butler and chief of servants at the Austrian mansion of Baron von Burgen. Things are going swimmingly, as Albert has just married the pretty ladies' maid Anna (Virginia Bruce). The wedding coincides with the arrival of Karl, the new chauffeur (Gilbert). Karl is an evil schemer, who winds up sleeping with half of the residents of the Bergen mansion and blackmailing the other half. He seduces poor Anna, as well as Sophie, the homely, middle-aged cook, from whom he extracts her entire life savings. Karl wants to run away with Anna, but Albert isn't going to sit back and let that happen.
Downstairs was taken from an original story by Gilbert, who sold the story to MGM for $1 so the film would get made. Gilbert, a huge star in the silent era whose career had tanked with the advent of talking films, had hoped that this movie would revive his career, so one might wonder why he wrote for himself the role of the irredeemable evil blackmailer. The film was a flop as were all of Gilbert's other talking films, and Gilbert's film career ground to a halt well before he died of a heart attack in 1936, but Downstairs is remembered today as one of Gilbert's best talking films and one of the best films of the pre-Code era. This film, along with all of Gilbert's other talkies, also disproves the myth that his career collapsed because of a high voice that was unsuitable to talking film.
---
This film exhibits the following tropes: