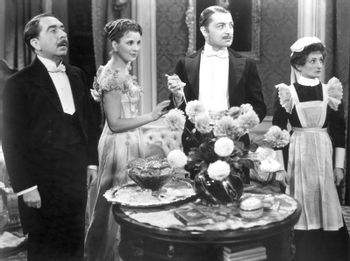 Cavalcade is a 1933 drama film adapted from a play by NoŽl Coward, directed by Frank Lloyd and starring Diana Wynyard and Clive Brook.
It tells the story of early 20th century England, from December 31, 1899 to December 31, 1932. The story centers on the upper-class Marryot family, headed by Robert and Jane (Brook and Wynward), and their servants, Alfred and Ellen Bridges. They go off to war—the Boer War and World War I—fall in love, get married, suffer death and tragedy, and take rides on the RMS Titanic.
Cavalcade was actually an American production, shot in Hollywood, although it featured a mostly British cast. It won three Academy Awards, including Best Picture and Best Director for Lloyd. From a latter-day perspective, it caused an Award Snub or three. Other nominees from that ceremony, such as 42nd Street and I Am a Fugitive from a Chain Gang, are better remembered today. (Meanwhile, the best-remembered film from that year, King Kong, wasn't even nominated.) In fact, Cavalcade might be the least well-remembered Best Picture winner ever, due in part to its sporadic home video status. It has only been released in the United States on DVD twice, as part of a 75th anniversary 20th Century Fox box set and in 2013 on an 80th anniversary edition Blu-Ray combo pack.
---
Cavalcade includes examples of the following tropes:
---