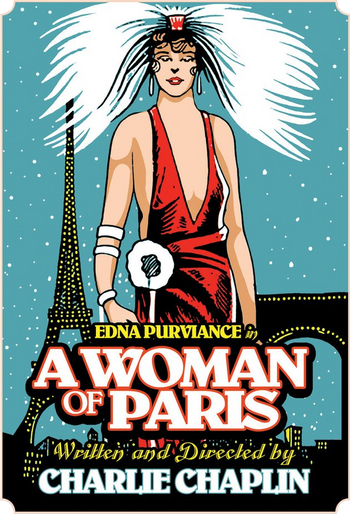 A Woman of Paris is a 1923 film produced, written by, and directed by, but not starring Charlie Chaplin.
It instead stars Edna Purviance as Marie St. Clair, a woman in a rural French village who only wants to marry her sweetheart, Jean (Carl Miller). Both of their families oppose the marriage, things go wrong, and Marie leaves the little village, moving to Paris, where she becomes the kept woman of wealthy gentleman Pierre Revel (Adolph Menjou). A disillusioned Marie is content to live in the lap of luxury—until she meets Jean again.
This film was an unusual departure for Charlie Chaplin. It's a drama, and Chaplin doesn't appear in the film except for a brief cameo. A Woman of Paris was Chaplin's attempt to take Edna Purviance, who had been his leading lady in almost every film he made from 1915 to 1923, and get her started in a new career as a dramatic actress. The film did poorly at the box office, and Purviance retired from acting soon after. It did however boost the career of Adolph Menjou, who would be a star in Hollywood for decades. Critically, the film was highly regarded at the time, with the likes of Ernst Lubitsch and Michael Powell citing it as influences on their work.
---
Tropes: