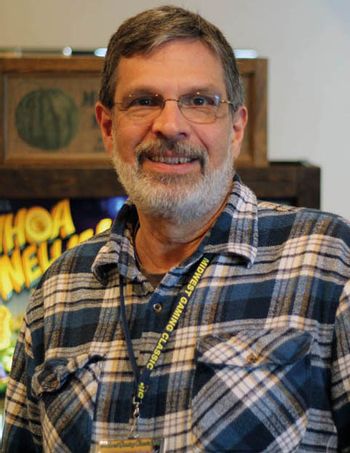 Dennis Nordman is a longtime designer of
arcade pinball games
with over twenty years of experience in the field.
Unlike some other pinball luminaries, Dennis Nordman fell into the industry almost by accident. After his divorce in The '80s, Nordman returned to college and majored in Product Design, where his senior project was to redesign the contemporary pinball cabinet. He received an "A" for his tapered, modernized prototype, but soon injured his back; during his recovery, Nordman built a full-size version of the cabinet in an attempt to get hired by a pinball company. After a presentation at Bally, he was hired as a cabinet designer.
His attempts to modernize pinball cabinets (as seen in Rapid Fire, Centaur II, and Mr. & Mrs. Pac-Man Pinball) didn't catch on; Nordman was laid off within a year, but got a job almost immediately afterwards with Gottlieb to create video games. He developed an early example of a Rhythm Game, only to get laid off again during a buyout by the Coca-Cola Company. During unemployment, he designed a pinball game based on Rambo along with a promotional poster; he was rehired by Bally after they saw it, and the game became Special Force.
Nordman subsequently created a memorable series of games for both Bally and Williams Electronics, such as Blackwater 100, Elvira and the Party Monsters , Dr. Dude, White Water, Demolition Man, Indianapolis 500 and Scared Stiff. After leaving Williams in 1996, he went on to design slot machine bonus systems and redemption games. He joined Stern Pinball in 2005, only to be let go three years later when the company underwent massive layoffs.
Since then, he has been working semi-independently, forming WhizBang Pinball with with longtime collaborator Greg Freres in 2009, as well as developing games for Jersey Jack Pinball, Heighway Pinball, and Multimorphic.
He is a fan of motocross and dirt bike racing, and creates custom dollhouses and miniatures in his free time.
---
Pinball games designed by Dennis Nordman include:
Special Force (Bally, 1986)
Party Animal (Bally, 1987)
Blackwater 100 (Bally, 1988)
Elvira and the Party Monsters (Bally, 1989)
Dr. Dude (Bally, 1990)
The Party Zone (Bally, 1991)
White Water (Williams, 1993)
Demolition Man (Williams, 1994)
Indianapolis 500 (Bally, 1995)
Scared Stiff (Bally, 1996)
Pirates of the Caribbean (Stern, 2006)
Wheel of Fortune (Stern, 2007)
Whoa Nellie! Big Juicy Melons (WhizBang Pinball, 2011)
Alien (Heighway Pinball, 2017)note
Lexy Lightspeed - Escape From Earth (Multimorphic, 2017)
Elvira's House of Horrors (Stern, 2019)
---
Tropes associated with Dennis Nordman and his games include:
Author Appeal:

Blackwater 100 came from Nordman's own interest in motocross racing.
Monster-related games like Elvira are related to his childhood fascination with Universal Horror monsters.

Motif: Nordman's gameography has several repeating themes:

Parties and Life of the Party characters (Party Animal, Elvira and the Party Monsters, Captain B. Zarr and The Party Zone).
Lighthearted takes on creatures and classic monsters (the Elvira games, Party Animal).
Double Entendre and other similar humor (Elvira and the Party Monsters, Scared Stiff, Whoa Nellie! Big Juicy Melons).
"Comic book" style art (Dr. Dude, The Party Zone).

Signature Style: Nordman's pinballs frequently exhibit the following:

Wiggling, swirling, and/or rollercoaster-style ramps (the helicopter in Special Force, the "Monster Slide" in Elvira and the Party Monsters, "Insanity Falls" in White Water, the "Rum Ramp" in Pirates of the Caribbean).
At least one vertical up-kicker.
A spinning disc, either to bounce the pinball around a chamber (the Molecular Mixmaster in Dr. Dude, the Turbo Boost in Indianapolis 500, Port Royal/Tortuga in Pirates of the Caribbean) or as part of a playfield toy (the crane in Demolition Man, the titular wheel in Wheel of Fortune).
Instead of a Wizard Mode, the player is instead rewarded with a huge jackpot for completing playfield tasks (the Big Bang in The Party Zone, Vacation Jackpot in White Water, Demolition Jackpot in Demolition Man, Victory Lap in Indianapolis 500).
A well-endowed woman either on the backbox or the playfield (the nurse in Dr. Dude, Elvira, one of the tourists in White Water, Melony, Ellen, and Hellen in Whoa Nellie!; Vanna White from Wheel of Fortune could also count to an extent).
Flippers that look like a row of teeth (Dr. Dude, Elvira, The Party Zone [which are recolored yellow and black]).
The display (or the machine itself) would go on the fritz whenever they enter a special mode (Vacation Jackpot in White Water, Demolition Time in Demolition Man, and maxing out the Stiff-O-Meter in Scared Stiff).
---