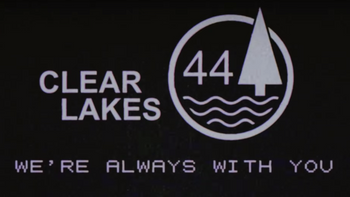 Clear Lakes 44
was a short-lived Spin-Off series of the online horror series Marble Hornets, debuting in August 2015.
The series received a large amount of cryptic hints before its premiere:
The first broadcast
was uploaded on the Marble Hornets YouTube channel on August 3rd, 2015, and with it the channel was renamed to "Clear Lakes 44 | Marble Hornets".
A timeline of related events can be found here.
Make sure to check it if you want the rundown on the ARG as well.
On April 10, 2016, Troy announced that the series in its current state is cancelled due to in-house issues (namely, Troy himself becoming disillusioned with the series, and everyone else in THAC leaving). The videos on the main channel were made unlisted, and Troy stated that he planned to move the videos to another channel while he rebooted the series from scratch. In October 2016, a new series called ECKVA debuted.
Warning: As this is a sequel series, spoilers for Marble Hornets will be unmarked. If you have not watched Marble Hornets, read at your own risk.
A channel with the original Clear Lakes 44 videos was created on June 28, 2016. Shortly afterward, new videos began being added. However, this was done by a fan who wanted to finish the series and was not any of the original team. While no legal action has been taken, Troy has stated he does not approve of it. As such, please do not add examples from episodes that were not on the original channel.invoked
---
This series provides examples of:
---
Made possible by tropers like you.

there are footsteps