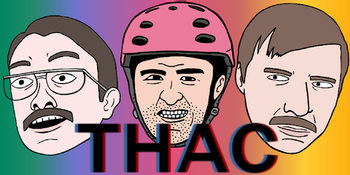 TroyHasACamera
(also referred to by its abbreviation THAC, later said to stand for TheyHaveACamera) is a limited liability company mainly supported and popularized by its YouTube channel. It was founded by Troy Wagner, Tim Sutton, and Joseph DeLage, and eventually added Noah Scammon in late 2014. You may know Troy, Tim, and Joseph from being the creators of the web series Marble Hornets, which is interestingly the exact opposite of what THAC is.
In late 2015, Troy reported that Tim and Joseph both decided to leave the group
. Several months later, Troy came clean
over their reason for leaving. After a heated discussion, he elected to let go of Noah and, according to a Patreon update
, would discontinue the THAC company name entirely. He started a new company in its place named Grampo Co.
, under which the horror web series ECKVA
is produced along with other series that can be found on the Grampo Co. YouTube channel
.
Troy
, Tim
, and Joseph
all have Twitter accounts, as does THAC itself
. The company also has a Facebook
.
---
TroyHasACamera exhibits the following tropes:
---