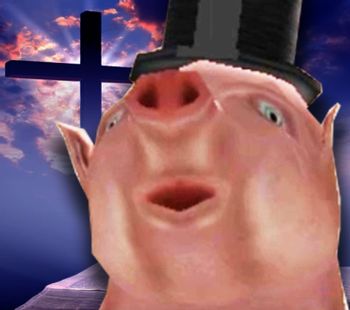 "Zoo Race is... is a game. Someone
made
this. This is a thing that exists and was put into the world
knowingly.
"
—
JonTron
,
The Zoo Race
episode
Zoo Race is a Christian-themed animal racing game. It was released independently in 2007 on the developers' own website,
and is freely available for download.
In it, a researcher named Reuben is reading about Noah's Ark, when Hannah, a librarian, makes fun of him for it. For reasons unknown, both they and others are transformed into animals, and pitted in a foot race.
---
Tropes present in Zoo Race:
---