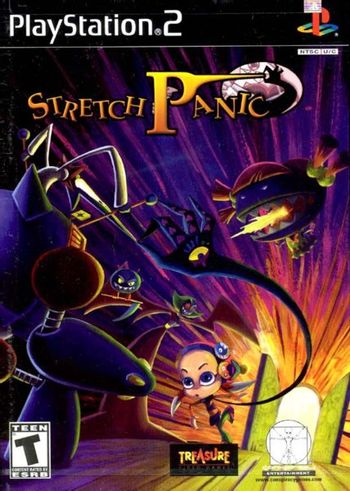 "This is the unusual story of an unusual little girl..."
—The first line of in-game text
Stretch Panic, or Freak Out in Europe, or Hippa Linda in Japan, is what happens when Treasure decides to make a game out of a tech demo, then shovel as much crazy into it as possible. The game is about a little girl named Linda, who gets bossed around by her 12 older sisters since she's the only one who doesn't spend every waking moment obsessing over her appearance. What kicks off the game is the sisters receiving a mysterious package that promises to make them into their ideal image or something along those lines. Beauty obsessed as they are, they happily damn their souls and get sucked into Hell to be transformed into exactly what was promised. Luckily, Linda just happened to arrive in time to get sucked into Hell as well, but not before her cherished scarf gets possessed, because the scarf is the only thing in the world in which Linda actually has any pride on. Now, with her scarf as her only source of protection, she'll have to exorcise the demons possessing her sisters.
Besides a few levels to fill up on the points you need to access the bosses, that's all there really is to this game, sadly. So, how do you fight them, you ask? Why, by using the scarf to pull on them, or building up enough tension to propel yourself at them like a human rocket. The scarf is also the only way you can really get around, since Linda can't really do much but move around so the scarf can do its thing. Enemies besides her sisters include various demons and women with gigantic breasts, as well as any Mooks the bosses accompany.
---
Stretch Panic provides examples of:
---