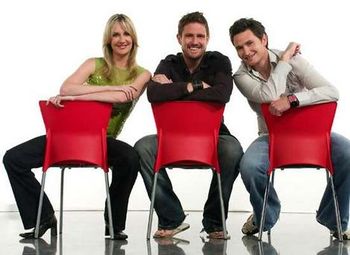 "Seriously, I would do this show for free."
— Wil Anderson
After Good News Week was shipped over to Channel Ten and cancelled in 2000, GNW TV Productions decided to start a new show with a similar format, but rather than play games about the news like Good News Week did, instead the regulars and guests would just talk about the news.
The Glass House, which ran on the ABC from 2001 to 2006, was hosted by Wil Anderson, Corinne Grant and Dave Hughes, and every week they invited two guests to join them behind a odd-looking desk to talk about the events of the past week. The guests themselves varied quite wildly, ranging from comedians, musicians and sports stars to scientists and even the occasional politician, and the discussions themselves would often be as diverse, mostly based on headline grabbing oddities of the past week. Once an Episode, Wil would get Dave to pretend to be a person recently in the news (such as a gay penguin) and everyone would "interview" him. The discussions could turn very controversial, very funny or even informative, depending on the guests and the topics.
As the ABC produced a gajillion (read: 218) episodes of it over five years, and most of it dated quite badly, the only DVD release available is a collection of the four best-of specials. The first five seasons (spanning 2001-2002) was released by the ABC on the iTunes Store in 2011.
Not to be confused with the 2001 thriller starring Leelee Sobieski, Diane Lane and Stellan Skarsgard, or the 2012 American Reality TV series of the same name.
---
The show itself includes the following tropes:
---