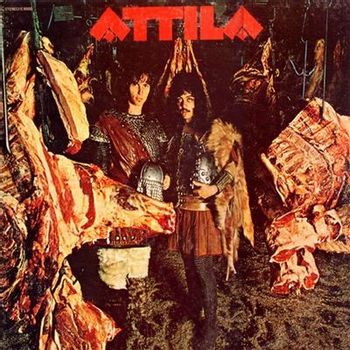 After Billy Joel set his first steps as a Rock & Roll band called The Hassles he and band member Jonathan Small started a Progressive Rock and Psychedelic Rock band called Attila, built around Historical Domain Character Attila the Hun and also dressed up to it. Musically they were notable for not using any guitars, but instead relying on just drums (Jonathan Small) and a heavily distorted B-3 organ (Billy Joel). They released a Self-Titled Album in 1970, full of Large Ham moments.
The band split up soon afterwards, also because Joel began an affair with Small's wife, Elizabeth, with whom he eventually married. Attila remains an Old Shame for both musicians involved. Small became a film producer and Joel eventually found success as a solo musician.
Please don't confuse this band with the Deathcore band of the same name.
---
Tracklist:
Side One
"Wonder Woman" (3:38)
"California Flash" (3:32)
"Revenge is Sweet" (4:00)
"Amplifier Fire (Part I: Godzilla/Part II: March Of The Huns)" (7:39)
Side Two
"Rollin' Home" (4:52)
"Tear This Castle Down" (5:49)
"Holy Moses" (4:30)
"Brain Invasion" (5:41)
---
Principal Members:
Billy Joel (credited as William Joel) - lead vocals, keyboards
Jonathan Small - drums
---
Wonder Woman with your long red tropes!
Alliterative Name and Alliterative Title: "Wonder Woman".
Artistic License: From the get-go, Wonder Woman is not known for her red hair.note
Boxed Set: "Godzilla" actually appears on Joel's My Lives.
Concept Album: The name of the band, the title and the cover all imply some sort of Attila the Hun theme. We see Joel and Small dressed up as Huns in furs and armor standing in the middle of the meat locker. Songs like "Revenge Is Sweet" and "Tear This Castle Down" also allude to this, but apart from that several songs don't actually tie in with this concept. Why title two tracks "Wonder Woman" and "Godzilla" for instance?
Dance Sensation: "California Flash"

Then he started doing a dance
He said it was imported from France
The girls all started to prance
To see the California Flash movin' his pants!

Epic Rocking: The 7:39 "Amplifier Fire"
Face on the Cover: Er...yeah. Though both men are basically unrecognizable in their Attilla the Hun costumes.
Important Haircut: "Tear This Castle Down"

You have let them twist your mind - and cut off all your hair!

Instrumentals: "Amplifier Fire" and "Brain Invasion"
Intercourse with You: "Rollin' Home", about a man coming come from a hard day with only one intent: going to bed with his partner.
Large Ham: "Revenge Is Sweet"

People laughed at me and said I'd never win

Now I turn around and KICK YOUR FACES IN!

KICK YOUR FACES INNNNN!

Medley: "Amplifier Fire" consists of two parts, one named "Godzilla", the other "March of the Huns".
Named After Somebody Famous: Being named after a notorious conqueror, pillager and warlord was maybe not the best idea.
No Celebrities Were Harmed: "California Flash" seems to be a swipe at Jim Morrison and the infamous Miami Public Exposure scandal.
Obsession Song: The narrator really, really needs his "Wonder Woman".
Porn Stache: California Flash has a mustache about 20 feet long!
Progressive Rock and Psychedelic Rock: Typical for a lot of bands that were popular at the time, but in fact they were going for Jimi Hendrix (with some Jon Lord influence as well).

When you find the time, reach back into your mind...

Revenge Ballad: "Sweet Revenge", where Joel boasts that people called him names, but now he is out "to win and kick your faces in".
Self-Titled Album: The album is named after the band.
Shout-Out:

"Wonder Woman", a reference to Wonder Woman and the part "Godzilla" from "Amplifier Fire" , of course references Godzilla.
Continuing the Jimi Hendrix theme, "Holy Moses" is based off of a thinly-veiled take on the "Foxy Lady" riff.

Signature Style: Occasionally everything sounds exactly like a Billy Joel song for a bit. The effect is jarring.
You Fool!:

I was told, "don't even try"

Look again, you fools!

I touched the sky!
---