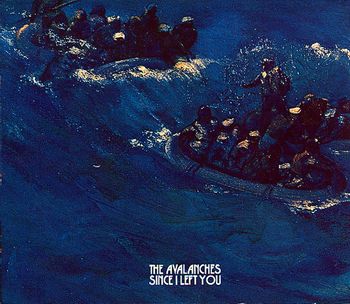 "Get a drink, have a good time now. Welcome to paradise..."
Since I Left You, released on 27 November 2000, is the debut album by Australian electronic music group The Avalanches, and until 2016, their only one officially released.
Produced by members Robbie Chater and Darren Seltmann, it continued a change in sound for the Avalanches; while their previously released EPs did have elements of their later work, they were technically rap works. Instead, this album was made with over 3,500 samples of vinyl records bought by Chater and Seltmann, and carries a more dance-oriented energy.
Figuring nobody would bother listening to it, they had no plans for an international release, and thus were very lax in regards to copyright (the Australian version and the other international versions released the next year have some notable difference in certain samples; most apparent in "Frontier Psychiatrist" and "Extra Kings").
Despite Chater and Seltmann's doubts on the album, Since I Left You received critical acclaim, resulting in an international re-release once the samples were given clearance. It's since gone on to sell over a million copies, and is considered one of the greatest achievements of both Australian musicnote The album is listed as No. 10 on the 100 Best Australian Albums
and plunderphonicsnote Music derived from taking elements of existing audio compositions to make a new composition, and is often compared to another similarly fully-sample-based album, DJ Shadow's Endtroducing...... However, while that album could be seen as a collection of songs, Since I Left You's tracks are so interconnected that, despite lacking any original vocals, it feels like nothing short of a musical journey.
---
Tracklist
"Since I Left You" (4:21)
"Stay Another Season" (2:19)
"Radio" (4:23)
"Two Hearts In 3/4 Time" (3:22)
"Avalanche Rock" (0:23)
"Flight Tonight" (3:51)
"Close To You" (3:55)
"Diners Only" (3:56)
"A Different Feeling" (4:23)
"Electricity" (3:29)
"Tonight" (2:20)
"Pablo's Cruise" (0:54)
"Frontier Psychiatrist" (4:48)
"Etoh" (5:03)
"Summer Crane" (4:39)
"Little Journey" (1:36)
"Live At Dominoes" (5:39)
"Extra Kings" (3:45)
---
Principal members
Bobby Dazzler (Robbie Chater and Darren Seltmann) - Choir, chorus, guitar
Robbie Chater - Samplers
James De La Cruz - Turntables
Antoinette Halloran - Vocals
Gordon McQuilten - Pianos, percussion
Sally Russell - Vocals
Darren Seltmann - Brass band, vocals, samplers
---
These tropes need therapy
---