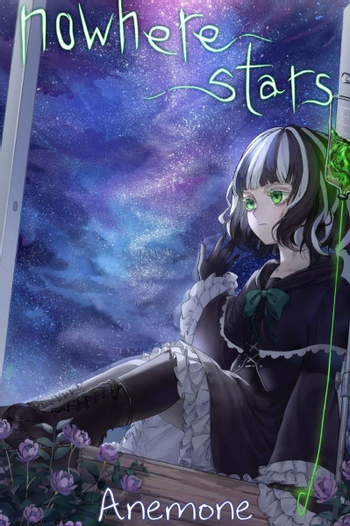 For as long as anyone can remember, humanity has existed under the threat of Harbingers, living nightmares that devour dreams and passions, and souls. However, humanity has protectors: the Keepers, children chosen by the Messengers of the Goddess Claiasya who can wield the magic of their souls. Modern-day Keepers are treated as a mix between celebrities and religious idols, but few accept the position just to become heroes. In fact, the Messengers promise that if a Keeper consumes and purifies enough Harbingers, they will be able to reshape themselves - or the world - according to their desires.
It is for this reason that Liadain Shiel, a terminally ill girl, becomes a Keeper, hoping to change her fate while she still has time. But magic wants its users to grow and change, not simply continue living, and the secrets swimming beneath the sea and beyond the sky have designs of their own...
Nowhere Stars is an ongoing Magical Girl Genre Deconstruction Web Serial Novel that started in 2022. It is written by Anemone, and it can be found here
.
---
Nowhere Stars contains examples of:
---