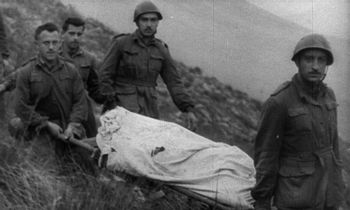 The Battle of San Pietro (1945) is a 38-minute-long Army documentary film made by John Huston, director of The Maltese Falcon, who had joined the military for World War II and been assigned to the U.S. Army Signal Corps.
The film is Exactly What It Says on the Tin, telling the story of the battle of San Pietro Infine
in December 1943. Huston's film sets the scene with shots of the broad Liri Valley where the town is located, then shows with maps the roads that lead into the town and the major German positions in the town and in the mountains around it. U.S. Army soldiers assault German positions, making progress but taking terrible casualties. U.S. tanks then brave a single winding mountain road, fully exposed to German artillery fire, in order to attack the town. Finally the Americans drive the Germans out of San Pietro and the surrounding mountains.
The graphic depiction of dead American soldiers and dead Italian civilians in The Battle of San Pietro got Huston in trouble with Army brass and nearly got the film shelved, but it was shown to the public and to American servicemen at the insistence of Gen. George Marshall. It is now recognized as one of the greatest contemporary World War II documentaries. Compare Huston's other World War II documentaries, Report from the Aleutians and Let There Be Light.
---
Tropes: