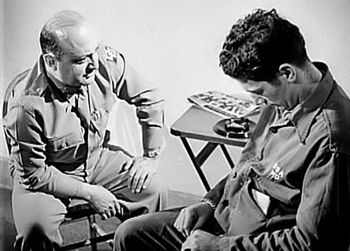 "Every man has his breaking point."
Let There Be Light is a 1946 documentary film directed by John Huston, who had volunteered for service in World War II and served in the U.S. Army Signal Corps. It was the third and last documentary Huston made for the Army, which wanted a film that would reassure the public that the shell-shocked veterans coming home from service overseas were not dangerous lunatics and could, with help, be re-integrated into society. The film follows a group of PTSD victims arriving at Mason General Hospital on Long Island. Psychiatrists talk to the men and help them talk out the traumas that they suffered in combat. Other activities such as occupational therapy and baseball help the men come out of their shells and re-engage with the world.
While Huston's movie showed all the veterans cured and returning home at the end of the film, the Army was not happy about the first part of the film and its unflinching portrayal of deeply damaged veterans. In fact, the film was shelved, with the Army going so far as to send MPs to break up a private screening arranged by Huston. The film was not made available for the public until 1980. As a product of the federal government, it is in the public domain.
This film inspired the Army hospital scenes in Paul Thomas Anderson's film The Master, which even took bits of dialogue from Let There Be Light. Huston's other war documentaries are The Battle of San Pietro and Report from the Aleutians.
Not to be confused with the 2017 film of the same name.
---
Tropes:
---