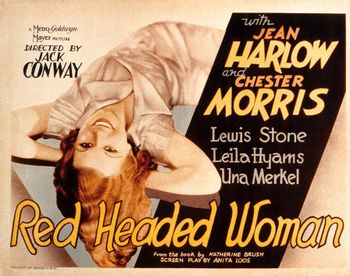 Red-Headed Woman is a 1932 film from The Pre-Code Era, directed by Jack Conway, starring Jean Harlow.
Harlow plays Lilian "Lil" Andrews, a red-headed secretary who, as the film opens, is scheming to seduce her boss, Bill Legendre. She eventually succeeds, breaking up Bill's marriage and marrying him herself, but when an even richer man, coal magnate Charles B. Gaerste, arrives in town, Lil sets her sights even higher.
Harlow, who usually appeared as a platinum blonde, dyed her hair red for this role. This was probably the height of her sexiness in the Pre-Code Era; after The Hays Code started getting enforced MGM toned it down and Harlow started playing more all-American types. Red-Headed Woman was a Star-Making Role for Charles Boyer, who appears as the French chauffeur who is sleeping with Lil while Lil is setting her sights on Gaerste.
---
Tropes: