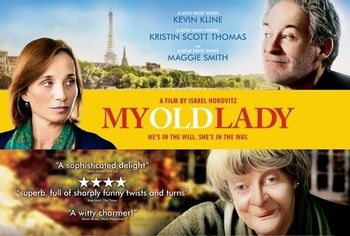 "If you do not love me I shall not be loved."
My Old Lady is a 2014 British/French/American dramedy film directed by Israel Horovitz as his directorial debut. The film stars Maggie Smith, Kevin Kline, and Kristin Scott Thomas.
Mathias Gold — a cynical, a down-on-his-luck New Yorker and former alcoholic — travels to Paris to sell a large, valuable apartment he inherited from his estranged father. However, he discovers an old woman, Mathilde, living in the apartment with her daughter Chloe. Mathias learns that the apartment is a "viager" — an ancient French system for buying and selling apartments — and that he will not actually get possession of the apartment until the day Mathilde dies… and that he owes her a pension of €2400 a month. Apparently, his father failed to mentioned this.
Flat broke and with no place to go, Mathilde allows him to stay in the apartment as long as he pays the rent. All the while, he butts heads with Chloe, who makes it clear that he is not welcome in her home. But the situation take a sudden turn when Mathilde unveils a secret, and how Mathias will handle this revelation.
---
Tropes
Drowning My Sorrows: Mathias (a former alcoholic) takes up drinking again

when he finds out that his father was having an affair with Mathilde

.

Mathias: (to a passing couple) Bonsoir. The end of my wagonhood. Cheers.
Jerkass: Max Gold. Let's see... cheated on his wife for the entirety of their marriage, neglected his family...oh, and he didn't bother to visit Mathias in the hospital (due a suicide attempt no less!) and he was only six blocks away! Can somebody say asshole? However, he immediately stopped seeing Mathilde after his wife committed suicide, and only spoke to her through letters.
Kick the Dog:

Mrs. Gold committed suicide right in front of Mathias. The effects were lasting.

Kick the Son of a Bitch: Mathias blackmails Chloe, threatening to reveal the affair to her lover's wife.
Mama's Baby, Papa's Maybe:

Mathias and Chloe suspect that they are brother and sister after discovering that her mother and his father carried an affair. Which causes… problems, since Mathias and Chloe are themselves in a relationship with each other. Her mother, Mathilde, denies it at first… before admitting that she doesn't know. In the end, Mathias gets a DNA test, proving that they are in fact "NOT family", putting an end to the drama.
---