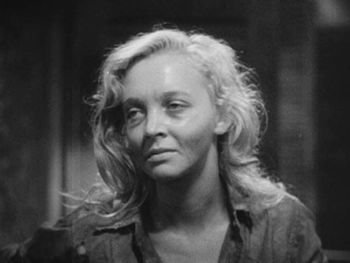 Kongo is a 1932 film directed by William J. Cowen, starring Walter Huston.
Flint (Huston) is the thoroughly evil owner of an ivory business somewhere in the heart of Africa, presumably the Belgian Congo. Flint has also made himself out as chief priest of the local voodoo religion, impressing the credulous natives with cheesy magic tricks. As the story opens, Flint has summoned his ward, an innocent 18-year-old girl named Ann (Virginia Bruce), from the convent where she's grown up, on the pretext that she is to finally meet her father. A two-year Time Skip reveals the formerly sweet and innocent Ann to now be a sex slave and an alcoholic wreck, having been brought to this low point by the unspeakably cruel Flint. What makes this even worse (if it can be worse) is that Flint doesn't have anything against Ann; he has degraded and abused her as part of a revenge plot against a man named Gregg. Flint is in a wheelchair, paralyzed from the waist down, and Gregg is the reason why.
Kongo is an adaptation of a stage play that starred Huston. It was previously adapted for the screen as West of Zanzibar, a 1928 silent film starring Lon Chaney. It is a remarkable example of a film from The Pre-Code Era, featuring murder, sex slavery, allusions to prostitution, drug addiction, and Lupe Velez continually on the verge of falling out of her sarong.
Not to be confused with Michael Crichton's novel Congo, or the film adaptation of the same name.
---
Tropes: