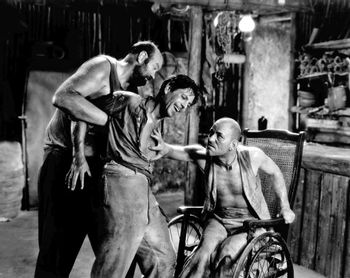 West of Zanzibar is a 1928 silent film starring the Man of a Thousand Faces, Lon Chaney.
Here, Chaney plays Phroso, a stage magician, whose wife Anna has fallen in love with another man, Crane (Lionel Barrymore). When Crane tells Phroso that Anna is going away with him, they fight, and Phroso falls from a second-floor walkway and is paralyzed. Shortly thereafter Anna returns and promptly dies, leaving behind an infant daughter that Phroso takes possession of, planning to use her in his revenge. Many years later, Phroso establishes himself as the leader of an African tribe in the Congo's ivory country, where Crane is now working as an ivory trader. Phroso steals Crane's ivory, not because he cares about ivory, but to lure Crane to him so he can take revenge.
West of Zanzibar was directed by Tod Browning, who later achieved fame as the director of the origional Bela Lugosi Dracula. It was an adaptation of a stage play called Kongo, and was remade in 1932 as the talking film Kongo.
---
Tropes: