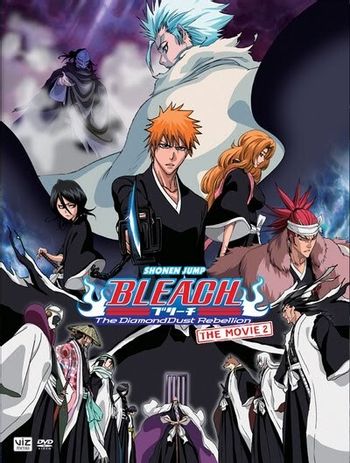 Bleach The DiamondDust Rebellion is the second film in the Manga/Anime series, Bleach
The film begins with Hitsgaya and Rangiku helping to escort a device known as "The King's Seal" for one of the Royal Families. However en route, the convoy is attacked, the King's Seal stolen and Hitsugaya goes missing in the confusion.
Naturally, the Soul Society, in their usual infinite wisdom, assume Hitsugaya stole it and put out a manhunt on him. Ichigo, unaware of any of this, ends up running into a wounded Histuguya himself and tries to get answers but he refuses to tell him what's going on. What follows is both Ichigo, his friends, and Hitsuguya trying to find the real culprit behind the theft and get to the bottom of the mystery of why they want to frame him while having to clash against most of the Gotei 13.
Released in 2007. Viz Media dubbed it and released the English version on Blu-Ray in 2009.
---
Tropes