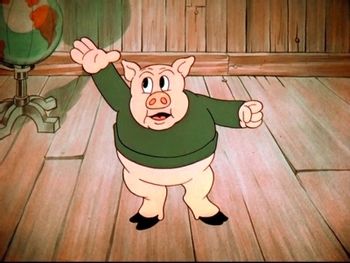 "Listen, my children, and you shall hear of the midnight ride of Paul Revere (Porky does an impression of Revere on his horse). On the eighteenth of April 1775; (waves out American flag that remembers American Revolution). Hardly a man is now alive who remembers that famous day and (stutters) year. 'Half a league, half a league onward rode the four hundred.' 'Forward, the Light Brigade!', 'Charge it to me', he said, 'Cannon to the right of them!'"
—Porky Pig's first lines of dialogue
"I Haven't Got a Hat" is a 1935 Merrie Melodies short, directed by Friz Freleng. It is notably the debut film of series star Porky Pig, as well as several other long-forgotten would-be stars of the series, most notably Beans The Cat, who was intended to be the picture's lead star. It was also the very first Merrie Melodie cartoon in the two-strip Technicolor process. (Disney had an exclusive contract to use the three-strip Technicolor process, but eventually, Warners would share that contract, which would lead to them using the process for Gone with the Wind.)
The cartoon is set around a school musical and recital, where a group of animal adults and children alike are gathering in the small schoolhouse to watch. The teacher, Mrs. Cud, introduces Porky Pig, who gets up and goes through a lengthy, stuttering struggle to recite the poem The Midnight Ride of Paul Revere (with a snippet of Charge of the Light Brigade sandwiched in). The kids get bored with Porky and whistle for a pack of dogs to chase him off stage.
Mrs. Cud calls for Little Kitty on stage, who tries to sing "Mary Had A Little Lamb", but ends up running off stage in stage fright. The twin pups Ham and Ex come along and sing the cartoons title song, "I Haven't Got A Hat", in a duet. Meanwhile, Beans the Cat tries to steal fellow student Oliver Owl's candy, but Oliver catches him and snubs him as he's summoned to recite the Poet and the Peasant Overture on the piano. Beans, disgruntled, sneaks outside to the window near where Oliver is playing, where a ladder is conveniently located. Beans finds a stray cat and dog wandering nearby, and when no one is looking, he lures them inside the piano. To Oliver's bewilderment, the piano plays itself perfectly, to the audiences cheers. But once the cat and dog break back out, the audience boo him. Beans the Cat is left laughing at Oliver's predicament, but Oliver sees him and responds by squirting him with a green ink pen. Beans then falls off the ladder inside, and a red bucket of paint nearby is launched inside and covers Oliver Owl. Since the two are even now, they shake hands grinning as the cartoon ends.
---
"I Haven't Got a Hat" provides examples of:
---