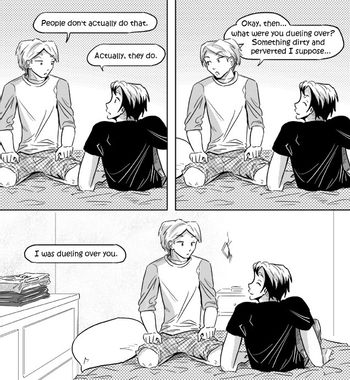 Seiyuu CRUSH! is a slice-of-life gay comic by sore☆zore. It focuses on Kaji and KoiZ, two romantically interested voice actors who make Boys' Love media together. It follows KoiZ's attempts to pursue the hesitant and sometimes-tsundere Kaji, and the complicated relationship of twin brothers Hiroki and Masuji. Other characters include KoiZ's younger brother and "player" Shiro, and aloof skateboarder Shota who cares for the rich but lost-in-fantasy Shimazu.
It is drawn in manga style, beginning in black and white and evolving into full color, with a noticeable Art Evolution since the beginning pages.
The comic is ongoing and updated on the official site here
.
---
This webcomic provides examples of: