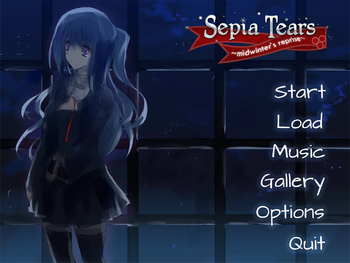 Sepia Tears: Midwinter's Reprise is a freeware OEL Ren'Py-based visual novel released by Team NEET (since then reorganized as Scarlet String Studios) on December 24, 2013 (PC/Mac/Linux), February 28, 2014 (Android), and January 9, 2016 (Steam).
An updated version, Sepia Tears: Reprise Edition, was released on October 7, 2019, and contains three extra chapters (with four new CGs), new background art and reworked sprites, and a remastered soundtrack.
From the official site
:
"Sepia Tears is a love story.
"There are no robots or vampires, for better or worse. It's about a high schooler named Mark, an ordinary protagonist with a memory that he tries very hard to forget. It's also about a girl named Myra who knows more about him than any stranger should, and who reminds him uncannily of his past.
"Together, they search for a storybook romance and realize that love doesn't always bloom as neatly as it ought to."
---
This visual novel provides the following tropes.
---